---------- Forwarded message ----------
From: "Ricken Patel - Avaaz" <
avaaz@avaaz.org
>
Date: 3 Nov 2016 20:21
Subject: Monsanto getting married; speak now or forever hold your peace
To: "
stluciaorgza@gmail.com
" <
stluciaorgza@gmail.com
>
Cc: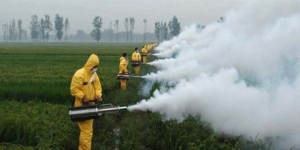 Dear friends,
It's the worst merger idea in history.
Monsanto poisons our food and fields. Bayer kills bees with pesticides. Now they want to merge into
a $100 Billion mega-corporation to dominate our entire global food system!
The firms are right now on a shopping spree for an army of lobbyists to steamroll the plan through US and EU regulators. It'll take an even bigger people-powered lobby to stop them.
That's where we come in.
Avaaz has beaten both of these corporations before so we know how to do it:
show massive public opposition through campaigns and polls, win over the regulators with powerful personal appeals, and have lawyers review every detail.
If 40,000 of us donate the price of a drink or a meal in the next 24 hours, we can launch this effort.
Chip in to end this monster marriage before it begins:
Global corporations are already too big to regulate, and the agricultural industry is in the hands of just 6 giant companies. Merging two of the biggest, with a history of abusing our health and ecosystems, is a terrible idea.
EU Competition Commissioner Margrethe Vestager and US antitrust chief Renata Hesse can block the merger if they decide it's not in the public interest, and both have good reputations. As the public, we have real power to shape their view. But they'll be under intense political pressure.
Avaaz has scored historic victories against Monsanto and Bayer on many occasions, from blocking the license renewal of Monsanto's biggest product, glyphosate, to banning one of Bayer's bee killing neonicotinoid pesticides.
Maybe they think that by teaming up they can beat us this time. Chip in to show them they're wrong:
The scariest thing about a Monsanto/Bayer merger is the immense political power such a corporation would have to control our democratic decision-making. What's wonderful about our movement is our ability to see this threat to our democracies coming, and stop it while we still can.
With hope and determination,
Ricken, Danny, Alice, Emma, and the whole Avaaz team
MORE INFORMATION
Bayer's $66bn takeover bid of Monsanto called a 'marriage made in hell' (The Guardian)
https://www.theguardian.com/business/2016/sep/14/bayer-takeover-monsanto-66-billion-deal
Bayer's Monsanto acquisition to face politically charged scrutiny (Reuters)
http://www.reuters.com/article/us-monsanto-m-a-bayer-antitrust-idUSKCN11K2LG
Bayer AG bulks up lobbyist roster for Monsanto deal (Washington Post)
https://www.washingtonpost.com/news/powerpost/wp/2016/09/21/bayer-ag-bulks-up-lobbyist-roster-for-monsanto-deal/
Six multinational companies dominate the agricultural input market (Gas and Oil)
http://www.gasandoil.com/oilaround/2011/06/six-multinational-companies-dominate-the-agricultural-input-market
Glyphosate -- Crushed it!! (Avaaz)
https://secure.avaaz.org/en/nothing_we_cant_do/


Avaaz is a 44-million-person global campaign network
that works to ensure that the views and values of the world's people shape global decision-making. ("Avaaz" means "voice" or "song" in many languages.) Avaaz members live in every nation of the world; our team is spread across 18 countries on 6 continents and operates in 17 languages. Learn about some of Avaaz's biggest campaigns
here
, or follow us on
Facebook
or
Twitter
.
You became a member of the Avaaz movement and started receiving these emails when you signed "Blockade Busters " on using the email address
stluciaorgza@gmail.com
.
To ensure that Avaaz messages reach your inbox, please add
avaaz@avaaz.org
to your address book. To change your email address, language settings, or other personal information,
contact us
, or simply
go here to unsubscribe
.
To contact Avaaz, please
do not reply to this email.
Instead, write to us at
www.avaaz.org/en/contact
or call us at
+1-888-922-8229
(US).